3 Roads Wins 4 Communicator Awards
Posted On May 3, 2012 in Uncategorized
PERFECT AT THE PLATE: 4 FOR 4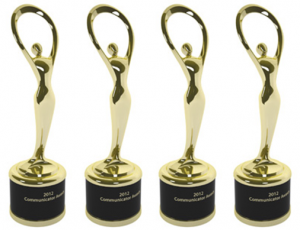 Out of the thousands of entries from companies and agencies of all sizes vying for a prestigious Communicator Award, all four 3 Roads entries garnered recognition.  Now in its 18th year and one of the largest awards of its kind in the world, the Communicator honors the best in advertising, corporate communications, public relations and identity work for print, video, interactive, and audio.
3 Roads received honors for the following:
*The Truth About Money With Ric Edelman Episode 117 received "Excellence" honors for using the story of Goldilocks to illustrate the challenges of knowing when the time is "just right" to take money out of an IRA as well as Edelman's interview with author Carol Joynt.
*The Truth About Money With Ric Edelman Episode 118 also received "Excellence" honors as Edelman shared tips on how to teach children about handling money and interviewed Washington Post financial columnist Michelle Singletary.
*A third video produced for Navy Dental and designed to recruit graduate dental students for the U.S. Navy garnered "Distinction" honors brought our winning tally to 3 for 3.
*A 30-second promotional video for the company Ability Prosthetics & Orthotics received "Distinction" honors, rounding out our honors.
These two most recent awards for the first season of The Truth About Money With Ric Edelman bring the total award count for the show to 14.
"I couldn't be prouder that we won a Communicator Award for multiple projects," said Cynthia Scott-Johnson, CEO of 3 Roads Communications. "You don't receive this kind of high-level recognition unless your productions are judged and found to be uniformly and consistently excellent. This is a tribute to the brilliant and creative team at 3 Roads."
The awards are sanctioned and judged by the International Academy of the Visual Arts, an invitation-only body consisting of top-tier professionals from a "Who's Who" of acclaimed media, advertising, and marketing firms.