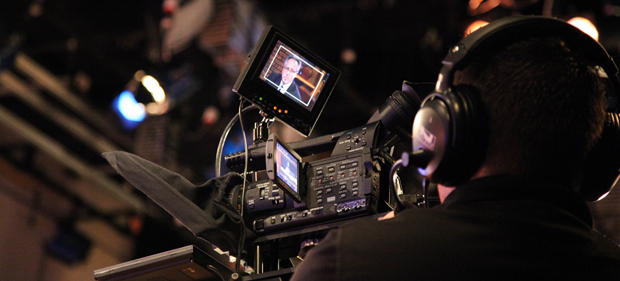 Equipment
3 Roads Communications' in-house studio is capable of accommodating a wide range of productions, from one-on-one interviews, to multi-camera live-to-tape productions. Regardless of production requirements, 3 Roads delivers professional and creative solutions to fit clients' needs. Our versatility is made easier by our impressive array of state of the art equipment.
High Definition & Video Capabilities
Cameras:
RED Epic Dragon — 6K Motion and Stills
Panasonic LUMIX G DMC‑GH4
6 HD Panasonic AG HMC 150 Camcorders
1 HD Panasonic AVCCAM AG-HMC40 Camcorders
Canon 5D Mark II Still Camera
3 HD Panasonic AGHC 100 Camcorders
3 JVC GY-HD100 Pro HD Camcorder to Equipment
2 Canon EOS C500
Computers:
3 workstations capable of 4K/UHD video with Adobe Creative Cloud and Microsoft Office
Mac Pro Quad Core, 27 inch Apple Display capable of 4K/UHD with Adobe Creative Cloud and Microsoft Office
3 iMac Intel Core, 27 inch capable of 4K/UHD with Adobe Creative Cloud and Microsoft Office
Video Equipment:
AJA Ki-Pro
AJA Ki-Pro 250GB HDD Storage
2 AJA Ki-Pro 500GB HDD Storage
6 AJA HA5 – HDMI to SDI Converter with Power Supplies
JVC DV3000 HD DV Deck
Sony HVR-M1SU High Definition Video Recorder
3 Professional Teleprompters with Flip Q Software, 10-inch LCD Monitor, and Premium HD 70/30 Beamsplitter Glass
NEC Projector with 100-inch Screen
5 ZC3DV Zoom Controller
Professional Film Dolly
5 Professional Tripod Dolly
5 Manfrotto Professional Tripod
Lighting:
Arri 300/150 Lighting System
2 Lowel Omni Flood Lighting System
4 Strand Leko 750w Lights
Banks of LED Lighting
Daylight Correcting Tube lighting
2 Camera LED top lights
9 Parlights with frames
4, 10 foot lighting trees
Other:
LG 55-inch LED 1080P Monitor
12 Westinghouse 32-inch LED Flat Screen 1080P Monitor
Discmakers DVD Duplicator and Printer
G-Raid, Digital Hard Drive Video Library
LaCie, Digital Hard Drive Video Library
Western Digital, Digital Hard Drive Video Library
Samsung 80″ 1080p Monitor
---
Live Event Capabilities
Full Production Truck
Production RV – Tioga Montara with 4 KVA generator
6′ x 10′ Grip Trailer
Panasonic AV HVS400AN HD 1080i & Camera Video Switcher
2 JVC GY-HD100A (SD/HD) Camcorders with Fujinon TH16x5.5 BRMU Lens
Glidecam V-16 "Steadicam"
Behringer Xenyx 2442FX Audio Mixer
Mackie 1604 Onyx Audio Mixer
Panasonic AG-DV2000P DV Recorder
ScopeBox Video Scopes and Recording
Porta Com 14 Station, 2-Channel Intercoms
JonyJib18 (eqv. To Jimmy Jib "Giant")
8ft. Film Jib
Over 3000 Feet of Professional Video Cable
---
Full In-House Audio Studio
16 Channel Mackie 1608 Audio Mixer
6 Bank audio snake
AKG C 3000 19-26mm Studio Microphone
2 Sony ECM – 44 B Lavalier Radio Microphones
2 Shure Lavalier Radio Microphones
2 Shure Handheld Radio Microphones
---
Canon EOS 5D Mark II
Image quality is perfected with 21 million large pixels that give spectacular detail and offer low-light sensitivity. Its HD video capabilities are equally proficient; the Canon EOS 5D Mark II includes full HD 1920 x 1080 video aptitude.
Key Specifications:
New 21.1 Megapixel CMOS sensor with improved EOS Integrated Cleaning System (E.I.C.S.)
New Full HD 1080 resolution movie recording
3.9 frames per second continuous shooting
High performance DIGIC 4 providing superb image quality
Maximum 310 large JPEG images in a single burst with a UDMA card
3.0" VGA (920k dots) Clear View LCD
ISO 100-6400 (expansion from 50 up to 25,600)
9 AF points + 6 Assist AF points
---