May 2012 Newsletter
Posted On May 11, 2012 in Uncategorized
3 ROADS MEETS WITH PHILIPPINE AMBASSADOR
3 Roads' Cynthia Scott-Johnson and Russ Hodge met with the Philippine Ambassador to the United States, Jose L. Cuisia Jr., last week to update him on the progress made on the production of the company's documentary, Rescue in the Philippines.
The documentary details the heroic rescue of more than 1,300 European Jews to the Philippines immediately prior to World War II by a combination of  then-President Manuel Quezon, then- Col. Dwight Eisenhower, U.S. High Commissioner Paul McNutt, and the Frieder Brothers— cigar manufacturers from the U.S. and leaders of the Manila Jewish community.
Ambassador Cuisia pledged the continued support of the Philippines government for the production and distribution of the documentary. Pictured above (left to right) are Cynthia Scott-Johnson, Russell Hodge, Ambassador Cuisia, Peggy Ellis and Barbara Sasser, granddaughters of the Frieder Brothers and Executive Producers of the documentary.
 TRUTH ABOUT MONEY BROADCAST 10,000 TIMES ON TV
AND COUNTING…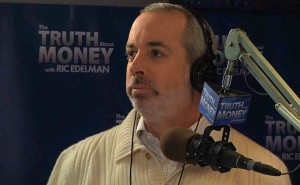 Our Public Television show The Truth About Money With Ric Edelman surpassed 10,000 broadcasts by its first anniversary in late April. Our second season of twenty-six new episodes has just begun even wider distribution.
Ric also reached another broadcast milestone this month when his radio show celebrated its 20th year on the air on May 2nd —showing America's top independent financial advisors is on a roll.
 ADDING TO OUR AWARD TALLY

Our "Telly Tally" just grew and we are good Communicators too!
A whopping 6 for 6, 3 Roads has won 2 (out of 2 entries) People's Choice Tellys and 4 (out of 4 entries) Communicator Awards for various projects listed below.
The two episodes of our Public Television show The Truth About Money With Ric Edelman which won Tellys this year were put up on a website for voting on the People's Choice Tellys — and both garnered the award based on the votes of the masses.
For the Communicator Awards, two episodes of The Truth About Money With Ric Edelman earned "Excellence" honors, while a video produced for Navy Dental designed to recruit graduate dental students and a promotional video for Ability Prosthetics & Orthotics garnered "Distinction" honors.  Details of the Communicator Award can be seen in the separate news item on our website.