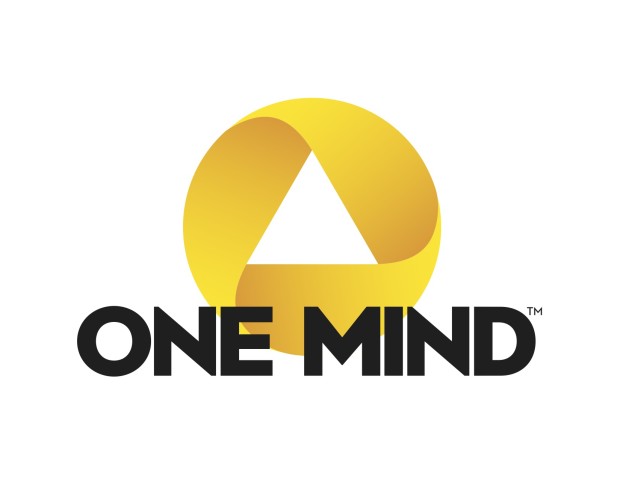 One Mind
One Mind has issued three :30 second Public Service Announcements (PSAs) and one :60 second Spanish language PSA, as well as print PSAs. These PSAs encourage the public to join the effort to find answers for brain illness by contributing to One Mind. Donations will fund open science, data sharing, and collaboration to find answers for brain illness. The PSAs highlight the struggles of three different patient types: veteran, caregiver and athlete.
FTP
The PSAs are available to all broadcasting, print and social media organizations at no charge.
To download the HD versions of the PSAs, please go to the following FTP site:
Server: ftp.3roads.com
FTP username: mediapass@3roads.com
Password: Pre$$Pa$$
Videos
Print and Digital PSAs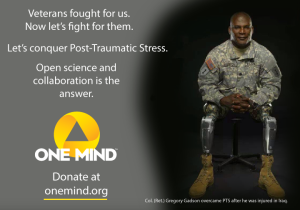 Col. (Ret.) Gregory Gadson – Version 1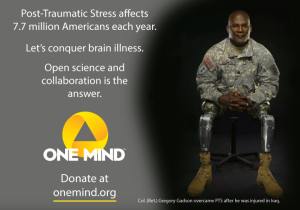 Col. (Ret.) Gregory Gadson – Version 2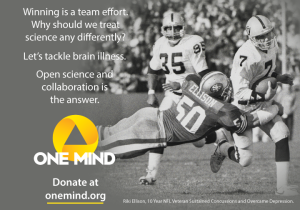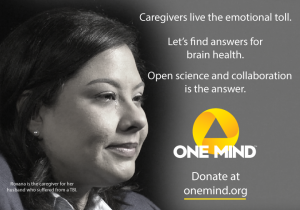 About One Mind
One Mind is dedicated to promoting and supporting brain health. There is an urgency to act now. By forming global partnerships within the governmental, corporate, scientific and philanthropic communities, we can accelerate large-scale research through "Open Science" data sharing and collaboration. One Mind not only to helps raise awareness and eliminate the stigma of brain disease, but also acts as a leader in the community by revolutionizing collaboration, research and funding.
One Mind programs greatly accelerate the discovery of better diagnostics, treatments and cures for brain illness. Our current focus is on a new approach to diagnose, treat and cure post-traumatic stress (PTS) and traumatic brain injury (TBI).The reasons are many, but here are a few: our service members returning from deployment, the rise in awareness of sports related brain injuries and new research that shows the interrelatedness of neurological illnesses. We believe that the data sharing principles, collaborative structures and technology solutions that we are developing in our PTS and TBI programs will also be useful to researchers studying related illnesses — including depression, Parkinson's, ALS, dementia, Alzheimer's and addiction.
For more information visit www.onemind.org
3 Roads Communications
5346B Ballenger Creek Pike
Frederick, MD 21703
For questions, email us at info@3roads.com or call
301-662-4121.