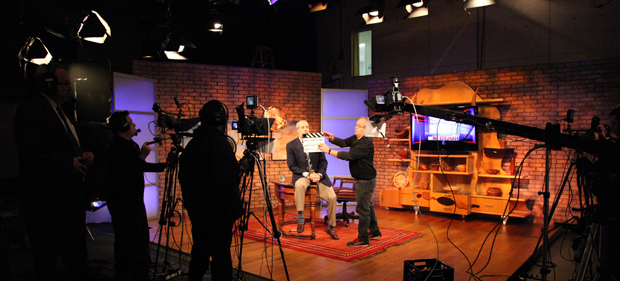 Television Production
The people at 3 Roads Communications excel in digital story-telling techniques to provide a total viewing experience. Storytelling connects human beings, and this human power of images, music and narration can move virally across the internet, with dynamic impact through broadcast and cable television, and to an exciting array of new media.
We excel in informational television programming and video production by conveying complex editorial concepts in an aesthetically pleasing manner. Our skills at intertwining factual information with stunning visuals and compelling storylines provide an exceptional viewing experience for audiences. Examples of our successful television series include Legends of Airpower, Frontiers of Medicine, Intellectual Property, Celebrate Freedom, Unspoiled Planet, For the Love of Their Brother and The Truth About Money with Ric Edelman.
Clients work directly with key personnel at 3 Roads Communications, whose experience is centered in the broadcast and cable news programming industry. Our intimate understanding of the television world allows us to work as a close-knit company of experts who produce high-end film and video projects for corporate and government clients. Our high caliber videos have been broadcast on HBO, NBC, CBS, CNBC, Fox, Comedy Central, Speedvision, Discovery Networks, AFRTS, PBS, Discovery Networks, and numerous foreign broadcasters.
3 Roads Communications has the in-house capability to conceive, produce, distribute and market high quality network programming on tight deadlines, while still being able to accommodate tight budgets.  We use state-of-the-art animation and graphics packages, including Final Cut Pro, Adobe After Effects and Maya on our digital editing systems to create clear and vivid images to broadcast specifications. 3 Roads Communications is your best choice for television programming, commercials, live event production, Public Service Announcements, Bites and Cover Packages, streaming audio and video for the internet and presentation pieces to target specific government or corporate audiences.